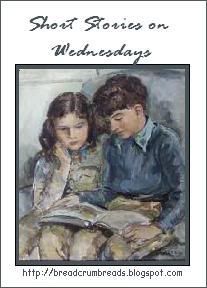 Lately, I have been trying to read more new-to-me writers from different parts of the world. Short stories are obviously the best way to explore an unknown literary terrain since they don't require you to commit too much time. To that end, I read two Nigerian short stories by writers I haven't heard of before. Admittedly, that's not saying much since the only Nigerian writers I have heard of are Chimamanda Ngozi Adichie and Chinua Achebe. I found these and many other fascinating stories in
The New Black Magazine
.
THREE ANGELS by Uche Peter Umez
This story was titled A Very Short Story on the index page of the site and a very short story it is. Just about a page or two in length, it nevertheless manages to pack quite a punch. It's about a man whose wife has just delivered triplets. He should be happy but he isn't because he can't imagine how he's going to feed them all on his meagre income. He sees just one, unhappy solution to the problem but it isn't going to be easy.
I'm going to keep this short or my review will turn out to be longer than the story itself. However, I must say that the writer manages to convey an immense amount of feeling in very few words. This won't take up more than a few minutes of your time and it is definitely worth that and more.
You can read it
online HERE
.
ITALIAN VISA by Jekwu Anyaegbuna
Ifenna has just lost his mother and her funeral turns out to be quite the spectacle with Uncle Ibe raining curses and accusations on everyone present. Not to mention the unorthodox burial of the corpse with a broom and a knife. Later, Ifenna is back at his University at Lagos, months away from a degree when his half brother Okezie calls him with the exciting prospect of a factory job in Italy. But nothing is quite as simple and straightforward as it seems.
This was a strange story and I'm not quite sure what to make of it. I don't mean that it was bad, it wasn't. It was actually quite engaging and even funny. It's just that the first half seemed leisurely while the second half seemed to skid all over the place. Still, I'm glad I read it. It was a peep into a world that I know very little about.
Here it is
. If you decide to check it out, do let me know what you thought of it.