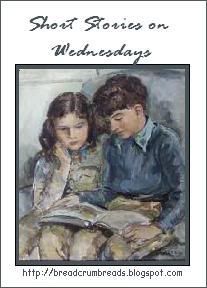 A couple of days ago, I came across
this post on Flavorwire
listing, what they call, the top 10 short stories of all time. Now that is just the kind of over ambitious claim that is designed to raise hackles all over the place. Obviously, no one can condense centuries' worth of short stories into one handy little countdown and no two people can possibly agree over the stories that ought to make it to such a list. Of the top of my head, I could think of at least fifty stories that deserve to be on a top ten list. But here's the thing; I love lists. So I had to check this out and having done that, I had to read all of the stories on the list that I hadn't read yet. That made for a busy two days but it was largely worth it. Unfortunately, there was one story on the list that I could not find online or in my library so I offer my opinion on the (allegedly) top nine stories of all time. The stories are listed in random order on Flavorwire, there is no best or worst. I'm listing them here in the order in which I read them which is pretty close to the original list.
1.
"For Esmé – with Love and Squalor" by JD Salinger
I've read this story as part of
Nine Stories
by JD Salinger and blogged about it
here
. It is one of Salinger's better known stories. It's about an unnamed sergeant who meets a gentle young girl called Esme just before he goes off to war. The myth of Esme sustains him through the squalor of war and its aftermath.
I didn't find this story online, although admittedly, I didn't look very hard since I had already read it. Do read it though, it's a classic.
2.
"
Silver Water" by Amy Bloom
A woman talks about Rose, her beautiful and talented sister and Rose's slow and painful descent into madness. The story also looks at Rose's family, who are grappling to deal with their new reality. It's tough to talk of such things and not be morbid or grim. Amy Bloom manages to make it funny and poignant at the same time. Read it online
here
.
3.
"The Dead" by James Joyce
Garbriel and his wife are at their aunts' annual bash. It's not a good night for Gabriel and life of the party he is not. This is also the night when his wife chooses to tell him about her past relationship.
This isn't my favourite story from the
Dubliners
(I've posted about my
favourites here
). Firstly, it really pushes the boundaries of the form in terms of length. Also, I found it hard to feel anything much for any of the characters. You can find the
story here
.
4.
"A Very Old Man with Enormous Wings" by Gabriel Garcia Marquez
The title tells you, very literally and explicitly, what the story is about. Marquez's fallen angel is very different from Tolstoy's (
What men live by?
). The old man is anything but 'angelic' and is temporarily turned into a freak show. I urge you to read this
here
. It's a master class in magic realism.
5.
"White Angel" by Michael Cunningham
Staying with the angels theme, White Angel is about two brothers growing up in Cleveland in the sixties and their experiences with drugs, sex, growing up and death.
I was a bit disappointed in this one. When I started to read it, I expected it to be a very impactful story, but somewhere along the way it started to feel very mediocre. I've read stories like this before and really didn't find anything special here. Still, if you'd like to try it for yourself,
find it here
.
6.
"A Good Man is Hard to Find" by Flannery O'Connor
A southern family on a road trip run into an escaped convict, The Misfit with disastrous results. I don't want to give away anymore of this iconic story although it is more shocking than suspenseful. Give yourself a treat and listen to
this free audio
of Flannery O'Connor reading out the story herself.
7.
"Emergency" by Denis Johnson
This is a strange little story that somehow manages to be captivating. It's about two men who work at a hospital and their crazy drug-induced reality. It takes a bit of focus to keep up with the alternating realities. One doesn't mind it though because the story is entertaining even while it's confusing.
I heard this story as
a podcast
, narrated beautifully by Tobias Wolff.
8.
"Cathedral" by Raymond Carver
There is something vaguely similar about 'Cathedral' and 'Emergency'. The drugs, the two men and recurring theme of blindness. But Carver keeps things taut and Cathedral is much more skilfully woven. The whole story plays out over one evening, in one house, with just three characters.
This story is a reminder to me that I need to read more of Carver. You can find it
online here.
9.
"Dance in America" by Lorrie Moore
A disillusioned and tired dancer is visiting with an old friend Cal. Cal's son Eugene is very ill and the family is straining to deal with the situation. Eugene himself is a thoughtful and intelligent kid. And he likes to dance.
This is one of those stories where nothing much happens, certainly nothing is resolved. Yet it is very satisfying. You can hear
a podcast
of it narrated by Louise Erdrich.
10.
"
Brownies" by ZZ Packer
This was the only story on the list that I didn't read since I could neither find it online nor in my local library. Anybody read this story? Thoughts?
Phew! That was exhausting but fun. I still think top ten lists of stories are a bit ridiculous but I really enjoyed reading some stories that were new to me and revisiting some that I'd read and loved before.